On 6th Jun 2017, BHive Workspace (run by Tusker Workspace Pvt. Ltd.) announced raising $1.2 million (Rs. 7.7 crores) funding from Blume Ventures and a network of HNIs from various business domains. HNIs network include investors like actor-director Ramesh Aravind, Meera Reddy (MD of SKCL) and few other high net-worth individuals. Established since Nov 2014, BHive Workspace is currently operational out of 10 locations in Bangalore covering over 100,000 square feet of office space and plans to use the fresh investment to scale PAN-India as well as in international locations. Current coworking shared offices are based out of HSR Layout, Domlur, Residency Road, Koramangala, Indiranagar and Whitefield in Bangalore.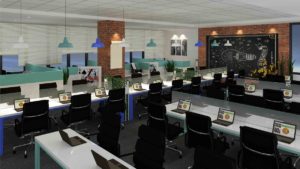 Over the last couple of years, evolution of coworking offices as business proposition has been gaining great traction. Investment from HNIs into the domain is an unique observation. "As a commercial real estate developer, I see that co-working is going to disrupt the traditional office space business. Considering the headway BHIVE has already made and the quality of their team, I am confident that BHIVE will be lead the co-working revolution in India," said Mr. Meera Reddy, Managing Director of SKCL, one of the top developers in Chennai. Popular actor and director, Ramesh Aravind, also sounded very robust around the proposition – "I am really impressed with the energy I see at BHIVE and am excited to see the way it has evolved over the last couple of years. In fact, I've decided to take up office space at BHIVE's Residency Road centre for myself. It's great to be a part of the co-working revolution, which BHIVE is leading from the front".
In fact the latest operations office of BHive Workspace at Residency Road in Central Bangalore (CBD) is being touted as one of the most premium coworking options available. Apart from its core of providing – Welcoming Hospitality, Thriving Community & Productive Workspace – the office provides high-end interiors, premium lounge and cafe, facilities like free workouts, murphy beds, showers and access to free events. Its not surprising hence that the current set of members for this facility includes actors, directors, VCs, founders and innovative start-ups.
Founders: Founded by Shesh Rao Paplikar, ex-Bloomberg and Ravindra MK, ex-SAP during Nov 2014. From a humble startup, BHive Workspaces has grown to be one of the largest coworking spaces in Bangalore. One of the unique propositions from BHive Workspaces is that it has organised over 500 bespoke events alongwith more than 12,000 startup enthusiasts.
Funding rounds: During 2015, BHive had raised 1st round of around $1 million from Blume Ventures, and high profile investors like TaxiForSure founder Raghunandan G, venture capitalist Rajesh Rai, Venture Capitalist; Hive Technologies MD Arihant Patni; Mirchandani Group owner Sanjay Mirchandani and UK India Business Council director Arun Narayan, Director among others.
Financials: With focus on unit economics, BHive claimed to be profitable across all its current centres spread across Bangalore. As per Shesh Rao, "In the last two years, we've expanded our coworking space rapidly and currently have 10 centres within Bangalore. We want to leverage our expertise to benefit more companies and startups. We are about to cross Rs. 12 crore annual revenue run rate, and based on our current pipeline, we expect it to grow to Rs. 100 crore in a year from now."
USPs and Way Forward: Bhive plans to step up the level of hospitality and technology-enabled services at its centres. Sharing confidence on the growth story of BHive till now, Ashish Fafadia, CFO of Blume Ventures mentions that "Since the first round, BHIVE continues to grow with a focus to help build and create great workplaces with best-in-class global standards for Indian corporates and office goers. Key strengths of BHIVE include their focus on creating experiences and making themselves relevant for virtually all organisations, regardless of their size and form." One of the key innovations in lines to its agenda of providing premium experiences to its customer, it has developed its own Internet Technology, BuzzNet, which the business positions as "the most reliable workspace internet in the country." It's time to wait and watch on how the business expansion evolves next.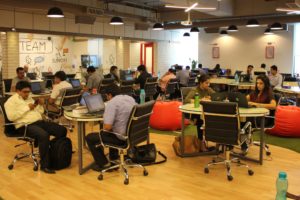 Market Competition: With the concept of "shared economy" getting more acceptance within the Indian mind-set, its only natural that this consumer behaviour is making in-roads into more domains as well including rentals, vacation accomodation, transport, household furnitures, high-value items of nature of single usage and many more. The concept of Coworking space or Shared offices has already gained traction in markets of Delhi NCR (including Gurgaon & Noida), Mumbai, Bangalore, Pune & Chennai and even in Tier II cities like Jaipur. With mushrooming of startups and entrepreneurship initiatives across the metros, it has become critical for such startups, SMEs and freelancers to keep their operational costs low. Coworking workspaces across these metros have just filled in this void and have provided the right coworking office space facilities at very optimized pricing to collaborate and get creative with their businesses. Also, with surplus supply of commercial real estate across the country, its only imperative that the Real Estate Developers / Facility Owners open up to alternate revenue options rather than retaining their commercial offices in "no revenue" mode for too long. Tech entrepreneurs lapped up the opportunity; also keeping in mind similar emerging trends in other developed markets like US.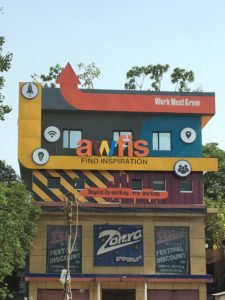 Within Delhi-NCR, the companies that are making a mark in the shared / coworking office space experiences include: 91springboard.com, Innov8.com, Instaoffices, Awfis, Qdesq.com, Theofficepass.com, AlfF Coworking, UnBoxed, Investopad,…to name a few. WeWork.com, a $18 billion valued US based company operating in shared office space domain, forayed into the India market in Bangalore during early 2017. During May 2017, another global-brand IWG launched its coworking office brand "Spaces" in India. A 30,000 sq ft office with 430-seats has been made operational in Cyber City, Gurgaon. The company plans to launch its next shared office in Chennai in the coming months.
The Way foward: There is lot of excitement in this domain and with global-brands getting into the Indian market to make their claim on the fortunes, its only with time that we will see some consolidation in the market. Businesses riding on tech and enabling superior facilities, services and experiences to its customers at very competitive costs will lead from the front. Also, coworking / shared office businesses are expanding into advanced role of incubation centres for startups, SMEs and freelancers and while that's still new as horizontal expansion, we should see more investments, innovation and consolidation coming up in this space in about a year's time from now. Watch out for the same.