On May 30 2017, Swiggy released an update that it has raised $80 million (~Rs. 517 crore) in Series E funding that was lead by global Technology investor Naspers.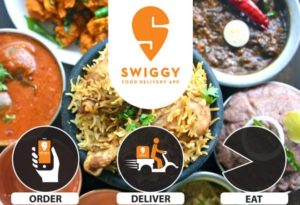 Swiggy is an online food ordering and delivery company based out of Bangalore. The Swiggy App is available on Google Play (https://play.google.com/store/apps/details?id=in.swiggy.android&hl=en) and iTunes (https://itunes.apple.com/in/app/swiggy-food-order-delivery/id989540920?mt=8) and helps urban users order food from the best nearby restaurants in the most convenient way. Food is usually delivered within 45-minutes of ordering through the team of delivery personnel (owned by Swiggy) in an effective and hygienic manner. There is no minimum order policy and since the team of delivery personnel (usually one personnel is tagged to pick up one order from the restaurant and delivered to the one who ordered) is managed by Swiggy itself, delivery is usually reliable and fast.
Founders:
Rahul Jaimini, Co-founder (https://in.linkedin.com/in/rahuljaimini)
Sriharsha Majety, Co-founder (https://www.linkedin.com/in/sriharsha-majety-563aa217/)
Nandan Reddy, Co-founder (https://www.linkedin.com/in/nandan-reddy-1830659/)
Founded during August 2014, with 6 delivery executives and 25 restaurants on its network. During May 2017, the startup has 6,000 delivery executives across Delhi NCR, Mumbai, Bengaluru, Hyderabad, Chennai, Kolkata & Pune, and over 12,000 restaurants on its platform.
Market size: In May 2015, TechCrunch reported that "of the $70 billion [takeout and delivery market], only about $9 billion (roughly 13 percent) is online." During FY15, Foodtech companies received funding of the tune of $500 million whereas during FY16 funding reduced to mere $80 million, indicating low investor sentiment for the domain. Inspite of low investments, industry grew by 150% YoY during FY16. Foodtech companies contributed around 30-35% of the business for their partner restaurants (restaurants who had tied up with any of the foodtech companies for food ordering and delivery services) during the year (2015-16). As per a recent IBEF report (Mar17), the organized food business in India is around $48 billion of which food delivery is valued at $15 billion.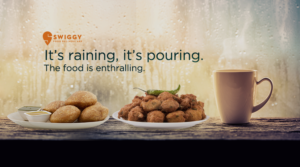 Investors: Apart from Naspers, the other VC investors are Accel India, SAIF Partners India, Bessemer Venture Partners,Harmony Partners, Norwest Venture Partners and Apoletto, the personal investment firm of Russian billionaire and founder of DST Global, Yuri Milner. At the end of its latest funding round (Series E), Swiggy in total has raised a total of $155.5 million (Rs. 1,005 crore) in VC funding. Swiggy has also raised about $8million in venture debts from InnoVen Capital.
Funding rounds: Recent fund raising instances includes –
Sep16 – $15 million led by Bessemer Venture Partners
May16 – $7 million from Norwest Venture Partners, DST Global and Accel Partners
Jan16 – Series C funding of $35 million from Singapore-based RB investments and New York-based Harmony Partners
Jun15 – Series B funding of $16.5 million
Apr15 – $2.5 million from Accel Partners and SAIF Partners
Market Competition: Swiggy will be investing this money in building technology – automation, data sciences, machine learning & personalization – and would be competing against Zomato (with $224 million funding is the leader in the food tech startups domain in India) and Foodpanda India (On 23rd May 2007, Foodpanda – through Naspers investment in delivery marketplace Delivery Hero that acquired Foodpanda from Rocket Internet – raised $431.45 million – about Rs. 3,000 crores – to increase its share in the foodtech pie in India). After the demonetization, foodtech startups got impacted badly, forcing many (as many as 150; media started calling 2016 as "graveyard" for foodtech in India) to close down – Tinyowl, Dazo, Eatlo or merge (hyperlocal grocery delivery start-up Grofers bought Spoonjoy). New competitors include FreshMenu, UberEats (food delivery business of Uber launched in Mumbai with partnership in place with around 200 restaurants already), Yumist, Fasoos, Twigly, Innerchef, Holachef, HelloCurry, Petoo and few more.
Financials: Company has faced challenges in bringing down the delivery costs (complete fleet of delivery personnel of around 6K strength is owned by the company directly). Losses for FY14-15 was around Rs. 2.12 crores that increased to Rs. 137.18 crores during FY15-16. Over the current year (FY17), the company has been able to reduce delivery costs by around 35% and also recorded 6x growth in revenues as compared to last FY. Current metrics on daily order size, monthly revenue growth versus cash burns is to be watched out for. Swiggy reports to have handled 1 million orders during Apr16 and aspires to hit 1 million orders a day in the next 5 years. On the other hand, Zomato claims to have handled 2.1 millions orders during Mar17. And that its revenue has grown by 80% YoY to $49 million in the current FY due to cumulative growth in advertisements business and food delivery business. Zomatos' food delivery business hit $9 million in FY17 (a 8x growth over FY16).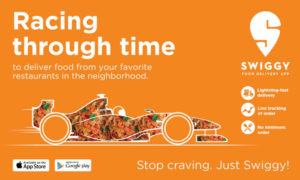 Challenges:
Shrinking margins – Delivery cost in India is upwards of Rs. 50/- per order delivery. Foodtech / delivery companies in India charge about 10-20% of the order value. The average order value is around Rs. 300-400/- in India. As against the US counterparts like, Postmates & DoorDash who charge a fee of $3-7 per delivery and the average order value being around $20
Need to take lead in the "cloud kitchen model" with the additional funds that has come in
Impact of the economy due to demonitization (drop in orders or, atleast decline in growth stimulus)
Huge monthly cash burns in attempt to lure customers through offers and discounts
The Silver Lining: Of the existing players, Swiggy has the upper hand in terms of market share and also being the strongest player delivery wise. Should focus on its core strength, build technology to reduce the delivery cost and innovate to make online food ordering and delivery more seamless and reliable to users in more new geographies. Current funding should help the company achieve its goal towards this goal of becoming the market leader in foodtech domain in India.